Ruth Handler watched her daughter Barbara at play with paper dolls , and noticed that she often enjoyed giving them adult roles. At the time, most children's toy dolls were representations of infants. During a trip to Europe in 1956 with her children Barbara and Kenneth, Ruth Handler came across German toy doll called Bild Lilli. The adult-figured Lilli doll was exactly what Handler had in mind, so she purchased three of them. The doll made its debut at the American International Toy Fair in New York on March 9, 1959. This date is also used as Barbie's official birthday.
Mattel acquired the rights to the Bild Lilli doll in 1964 and production of Lilli was stopped. The doll was marketed as a "Teen-age Fashion Model," with her clothes created by Mattel fashion designer Charlotte Johnson. The first Barbie dolls were manufactured in Japan, with their clothes hand-stitched by Japanese homeworkers. Around 350,000 Barbie dolls were sold during the first year of production.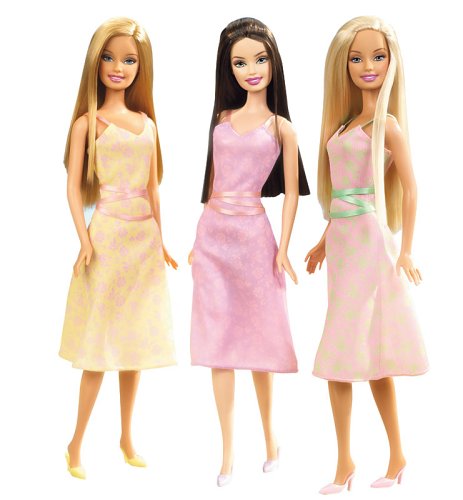 It is estimated that over a billion Barbie dolls have been sold worldwide in over 150 countries, with Mattel claiming that three Barbie dolls are sold every second. The standard range of Barbie dolls and related accessories are manufactured to approximately 1/6th scale, which is also known as playscale. Barbie products include not only the range of dolls with their clothes and accessories, but also a huge range of Barbie branded goods such as books, fashion items and video games. Barbie has appeared in a series of animated films and makes a brief guest appearance in the 1999 film Toy Story 2.
Almost uniquely for a toy fashion doll, Barbie has become a cultural icon and has been given honors that are rare in the toy world.